Location
New York, New York US
217 miles
Make
Demag
Model
AC 100-4L
Tons
120.00
Year
2014
Price On Request
by Select Crane Sales, LLC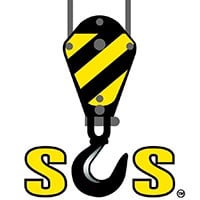 2014 Terex/Demag AC100-4L Lower hours: 2,761, Miles: 12,250, 194.9' Main Boom, 33.1' – 62.3' Hydraulically Off-settable Jib, 26.2' Lattice Boom Extension, Off-settable, Swing Away Rooster Sheave, 57,500 lbs Counterweight, Main Hoist, Auxiliary Hoist, 20.5R25 Tires, 8x6x8 Drive/Steer, ZF AS-Tronic Transmission, A/C in Both Cabs, Automated Central Lubrication System, 80 Ton 5-Sheave Block, 20 Ton 1-Sheave Block, Ball. Located in NY
Location
Bridgewater, New Jersey US
186 miles
Make
Demag
Model
AC 100-4L
Tons
120.00
Year
2018
Price On Request
by Empire Crane Company
2018 DEMAG AC100-4L with 2 year warranty MAY DELIVERY Capacity 120T Main Boom Length 194.9' Main Boom Extension 62.3' +26.2' Maximum System length 267.7' Maximum Counter Weight 27T 462HP Carrier Engine Drive Chain 8x6x8 Upper A/C Call Us for Pricing & Availability.
Location
Tinley Park, Illinois US
573 miles
Make
Demag
Model
AC 100-4L
Tons
120.00
Year
2019
Price On Request
by Dozier Crane & Machinery
195' boom, 88' swingaway, main & auxiliary winch, swingaway rooster sheave, MTU Tier 4 diesel engine, ZF AS-Tronic transmission, 16:00R25 tires, max counterweight package, centralized lubrication system for carrier & superstructure, IC-1 integrated LMI with crane data logger, anti-two block, 8x6x8, anemometer, light package, outrigger basis monitoring & load indicator, air conditioner & heater in both cabs, 88-Ton & 22-Ton blocks, 8.8-Ton ball. Dolly prepped. Factory warranty.
The Demag AC 100-4L can fit into the tightest locations, handle the heaviest loads, and delivers the longest boom extensions for a 100-ton class crane. In fact, with a width of 2.55m, this is the most compact in its class. This crane goes places where other 4-axle cranes cannot go. With a system length of over 80 meters, the AC 100-4L has the largest operating range of any all-terrain crane in its class. A completely redesigned carrier and crane cab that were developed with extensive input from focus groups make this an exceptional All Terrain mobile crane.
Specifications
Technical Details

Metric

Imperial

Capacity class

100 t

120 US-tons

Main boom length

59, 4 m

194.9 ft

Main boom extension

19 + 8 m

62.3 + 26.2 ft

Maximum system length

54, 6 + 8 + 19 = 81, 6 m

179.1 + 26.2 + 62.3 = 267.7 ft

Maximum counterweight

24, 5 t

27.0 US-tons

Overall length

13, 37 m

43.9 ft

Carrier length

10, 64 m

34.9 ft

Turning radius over cabin

9, 64 m

31.6 ft

Carrier engine

340 kW

462 hp

Superstructure engine

129 kW

175 hp

Maximum travel speed

85 km/h

53 mph

Drive chain (optional)

8 x 4 x 8 (8 x 6 x 8)

8 x 4 x 8 (8 x 6 x 8)

Tires

14.00 (16.00 / 20.5)

14.00 (16.00 / 20.5)

Maximum

gradeability

70%

70%