Listings

Listing Timeline

About

Company Description

Branches

Company Branches

Contact

Company Contacts
Contacts for Kastalon

Branches in Kastalon
Kastalon
4100 West 124th Place, Alsip, IL, USA

Family-owned and operated since 1963, Kastalon Polyurethane Products prides itself on taking polyurethane manufacturing to a whole new level. Kastalon has built a solid reputation of problem solving by engineering unique blends of polyurethane to achieve exceptional physical properties. Renowned for providing our clients with design and engineering support, we not only make polyurethane components and parts, we create solutions.
Kastalon is a globally recognized custom polyurethane manufacturer who uses the highest quality materials and engineering expertise to match the customer's specific requirements. Kastalon has built a solid reputation of problem solving by thoroughly understanding the customer's requirements.
By gaining an understanding of the application and environment that a part or component must operate in, Kastalon custom engineers the material to deliver the optimum physical properties for the best performance.
We welcome the opportunity to show you the advantages of using Kastalon Polyurethane. Bring us your most challenging project and let our expert team of field engineers, designers, and production technicians bring your solutions to life.
| | |
| --- | --- |
| Location | Alsip, Illinois US |
| Make | Kastalon |
| Model | Parts |
Price On Request
by Kastalon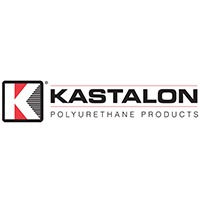 Kastalon's Urethane Crane Bumpers are tough, resilient, economical, and last up to 20 times longer than hydraulic, spring, rubber, and wood bumpers. Call 708-389-2210, visit www.kastalon.com or email us at
[email protected]
. Sizes range from 2-inch diameter to 24-inch diameter in both U.S. and European configurations, fitting virtually every bumper requirement. Regardless of the size or application of the crane, Kastalon has the appropriate bumper available. No moving parts to fail; as are found in hydraulic or spring bumpers Compact and lightweight Efficient at most temperatures, from -60° to 225°F (-51° to 107° Centigrade) ...