Listings

Listing Timeline

About

Company Description

Branches

Company Branches

Contact

Company Contacts
Contacts for Hutch Crane and Pump Rental Corporation

Branches in Hutch Crane and Pump Rental Corporation
Hutch Crane and Pump Rental Corporation
302 Granger Rd, Berlin, VT, USA

Hutch Crane Service provides quality crane services throughout Vermont and New Hampshire. Since 1984, we have taken pride in our dedication to customer service and we make every effort to arrange our schedule to meet your needs.
We employ skilled, experienced operators to assist you with all of your hoisting requirements and offer a diversified fleet of boom trucks and truck cranes ranging in capacity from 23.5 to 75 tons. This allows us to provide a broad spectrum of hoisting services to support the construction, manufacturing, utility, transportation, municipal, institutional and maintenance industries.
We can be reached 24/7, including evenings, weekends and holidays @ (800) 639-0712.
All cranes are

third-

party

certified.
| | |
| --- | --- |
| Location | Berlin, Vermont US |
| Make | Link-Belt |
| Model | HTC-8670 |
| Tons | 70.00 |
| Year | 1999 |
$95,000 USD
by Hutch Crane and Pump Rental Corporation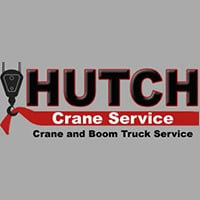 1999 Link Belt HTC-8670, 70 Ton Truck Crane Engine: Detroit Series 60 (365 HP) Transmission: Eaton (RTO-14709ML; 11 Speeds Forward, 3 Reverse Boom/Jib: 115' Main Boom (4 Section); 36'-6"-61' (Bi-fold) Lattice Fly Counterweight: Full 16,000 lbs. Block: 20-Ton Ball: 8.5 Ton, Swivel Hook Winches: 2 each - main and auxiliary Condition: Good working/running condition (needs paint)Certification: 3rd Party Annual Inspection/Certification Good Through May 15, 2020 Mileage: 158,715 Hours: 13,122 View: By AppointmentPrice: $105,000 USD