Cranes are designed to lift, lower, and move heavy loads using pulleys and cables. Cranes are used in the construction and logistics industries as well as in the manufacturing of heavy equipment.
There are various types of cranes designed to operate under different circumstances. These include mobile cranes, telescopic cranes, tower cranes, and truck-mounted cranes, rough terrain cranes and all terrain cranes  among others.
1. Mammoet
Mammoet, a privately held Dutch company based in Utrecht, Netherlands, provides custom-built solutions for lifting, transporting, installing and decommissioning large and heavy structures around the world.
The company operates in various markets from infrastructure, mining and ports to nuclear and petrochemical. With a fleet of 528 all-terrain, rough terrain and mobile cranes, and a 136 lattice boom crawlers, Mammoet tops the list of the world's largest crane rental companies in terms of lifting capacity.
Mammoet used it's Liebherr LR 13000, the biggest crawler crane offered by Liebherr, to install platform legs on Van Oord's wind turbine fitting vessel, the Aeolus.
Founded in 1807, Mammoet now employs more than 5,000 people.
2. Sarens
Sarens is a Belgian multinational based in Wolvertem, Belgium. It specializes in heavy lift, engineered transport, and crane rental services. The company produces a range of equipment including cranes, scaffolds, jacking products, and other heavy lifting products.
Sarens operates in 65 countries and serves all markets – from nuclear and wind to offshore, nuclear, and civil.
With a fleet of 1,093 wheeled mobile telescopic cranes and 440 lattice boom cranes, Sarens is the number two largest crane company in the world.
3. ALE
Heavy lift and transport multinational ALE takes the third position in the list of the world's top 10 crane companies in the world.
The privately held company, which is based in Stafford, UK, specializes in heavy lifting and transportation and installation of heavy objects.
ALE has a fleet of 125 wheeled mobile telescopic cranes and 61 lattice boom cranes.
Earlier this year, the company launched a 10,000-ton capacity super heavy lift crane (SK10,000), which is the world's largest land-based crane.
ALE and Mammoet have recently signed an agreement to merge their operations in a deal that is expected to create a giant crane multinational.
4. Maxim Crane Works
Maxim Crane Works, based in Pennsylvania, USA, is one of the world's largest crane rental companies offering leasing and sales of lift equipment such as crawler cranes, and tower cranes.
Maxim takes the fourth spot in this year's IC50. The firm, which also featured on the ACT100 Index, has 2,715 wheeled mobile cranes and 505 crawlers.
In September 2019, Maxim and Solley Equipment & Rigging signed an agreement sanctioning it to acquire Solley Crane, a family-owned business in the Central Tennessee and Northern Alabama regions.
5. Lampson International
American crane manufacturer Lampson International has maintained its position as the fifth-largest crane company in the world.
Headquartered in Kennewick, Washington, the company operates one of the biggest crane fleets in the US with a fleet of 312 wheeled mobile cranes and 298 lattice crawlers.
Lampson International operates heavy crane lifts with capacities from 100 tons to 750 tons and heavy lifting transi-lift cranes with capacities from 500 tons to 3,000 tons.
6. Sanghvi Movers
Indian firm Sanghvi Movers is the sixth heavy lifting company in the world. The company has maintained this position on the IC50 since 2015.
Sanghvi Movers, which is based in Pune, India, offers rental services for medium to large-sized heavy duty hydraulic telescopic and crawler cranes.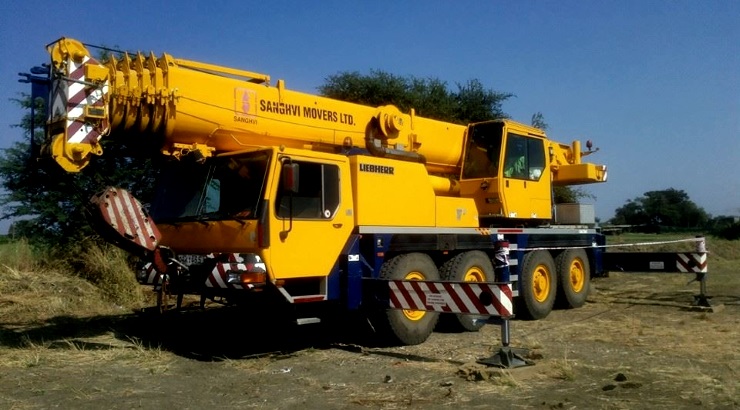 The company operates a fleet of 312 wheeled mobile cranes and 298 lattice crawler cranes. Sanghvi Movers is India's largest crane rental company.
7. Bigge Crane and Rigging
Bigge Crane and Rigging has moved up the 2019 IC50 Index. Headquartered in San Leandro, CA, Biggie has one of the world's largest selections of new and certified used cranes for sale or rent.
Biggie's 724 wheeled mobile and 224 crawler units, crowned by a 1,000 ton Liebherr LR 11000, ranks the firm highly among global heavy lift companies.
8. Buckner Heavy Lift Cranes
With more than 70 years of serving the heavy commercial and industrial markets, Buckner Heavy Lift Cranes is without a doubt a globally recognized market leader.
Buckner has the sixth-largest crawler crane fleet and largest telescopic crawler fleet in the US.
The company has undertaken numerous noteworthy projects including the Mercedes-Benz Stadium and the Stennis Space Center Test Stands in the USA.
9. Deep South
Deep South boasts a wide-ranging fleet of cranes, transporters, rigging, and specialty equipment to execute both small and large projects.
Its cranes range from 25 tons to 2,500 tons and include the powerful VersaCrane™ line.
Founded in 1968 in the heavy industrial US Gulf Coast, Deep South's services range from bare crane rental to turnkey heavy lift and heavy transport solutions.
Over the past 12 months, the US firm has acquired 36 more cranes – bringing its total fleet size to 242 wheeled cranes and 26 lattice units.
10. Weldex
UK-based Weldex closes the list of the top 10 cranes companies in the world. Founded in 1979 by the McGilvray family, Weldex boasts a fleet of 130 lattice crawlers. Its services range from crane rental to manufacture and distribution of rigging equipment.
Market forecast (2019-2024)
The global crane market was valued at $42.2 billion in 2018. The market is expected to hit a value of $54.3 billion by 2024, presenting a CAGR of about 4 percent during 2019-2024.
Rising industrialization and urbanization are expected to raise the demand for various types of cranes. Advances in several end-use industries such as automotive, mining, as well as oil and gas will also grow demand for cranes.