Listings

Listing Timeline

About

Company Description

Branches

Company Branches

Contact

Company Contacts
Contacts for Warren Salvage

Branches in Warren Salvage
Warren Salvage
Boerne, TX 78006, USA

Established in 1978 by J. Warren Fontenot, the warren salvage company has grown to be one of the nation's premier purveyors of salvage. we also handle salvage directly for insurance companies.
J.Warren Fontenot was involved in heavy trucks and equipment for over 50 years, with over 20 years of experience in heavy equipment adjusting.
Prior to joining his father in business, in 1996, David Fontenot WAS Vice President and Director of Governmental Affairs for the Automotive Wholesalers of Texas, a state-wide trade association representing the automotive and truck aftermarket industry.
Thanks to OUR COMPREHENSIVE KNOWLEDGE and four decades of experience, you can bid with confidence and entrust us with all your salvage needs.
| | |
| --- | --- |
| Location | Pensacola, Florida US |
| Make | Link-Belt |
| Model | LS-138H |
| Tons | 75.00 |
| Year | 1997 |
$32,500 USD
by Warren Salvage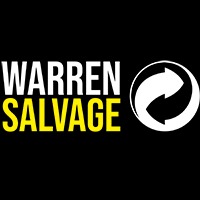 Link-Belt LS-138H (SN..B5K17-8040) 75-ton Lattice Boom Crawler Crane (Salvage) for Auction Carbody and Upper in Peniscola, FL TO SUBMIT A SEALED BID - Contact: David Fontenot @ 830-446-9698 /
[email protected]
Contact: Toni Kline with Export Logistics & Shipping, Inc. to coordinate @ 813-786-3441 /
[email protected]
Details Crane tipped over on a barge with no water damage. PLEASE NOTE: Crane DOES NOT INCLUDE THE COUNTERWEIGHT Includes: Boom Sections Boom Head Upper Arm Boom Hoist Winch Sheaves New Gantry New Turn Table Bearing Luffing Pulley Wire Rope Mast...