Types of Cranes & Lifts
Cranes, Hoists & Material Handlers

(4388)

All Terrain Cranes

(649)

Boom Trucks

(615)

Carry Deck Industrial Cranes

(286)

Crawler Cranes

(803)

Derrick Cranes

(3)

Draglines

(4)

Gantry Cranes

(19)

Grapple Loader Cranes

(1)

Hoist Winches

(3)

Knuckle Boom Articulating Cranes

(96)

Mini Cranes

(12)

Mobile Harbour Cranes

(1)

Pallet Fork Loader Cranes

(27)

Pedestal Cranes

(1)

Pick & Carry Cranes

(26)

Ringer Cranes

(2)

Rough Terrain Cranes

(1260)

Service Mechanic Truck Cranes

(13)

Sign Cranes

(4)

Tower Cranes

(172)

Trolley Booms

(6)

Truck Cranes

(385)

Digger Derricks, Piling & Foundation Machines

(8)

Digger Derricks

(7)

Drilling Rigs

(1)

Earthmoving Equipment

(1)

Electric & Aerial Transmission Equipment

(1)

Boom Lifts-Telescopic

(1)

Heavy Lift Hydraulic Systems

(4)

Parts, Attachments, Components, Manuals, & Accessories

(774)

Air Compressors

(2)

Anti-Two Block (A2B) Systems

(9)

Aux. Sheave Assembly

(1)

Axles & Drivelines

(4)

Bearings

(1)

Boom Dollies

(14)

Boom Lift Cylinders

(11)

Boom Raise System

(2)

Boom Sections

(102)

Buckets (Concrete - Clam - Dragline)

(1)

Cables

(7)

Cabs

(6)

Camera Monitor Systems

(8)

Chains

(1)

Connectors

(1)

Counterweights

(6)

Crane Bumpers

(1)

Crane for Parts

(16)

Engines

(3)

Filters (Oil, Air, Hydraulic)

(1)

Gearing

(1)

Gears & Pinions

(2)

Hoist Winches (Drums) Components

(25)

Hook Blocks

(132)

Hydraulic System Components

(4)

Jib Sections & Components

(124)

Lifting Magnets

(3)

Lights

(1)

Load Moment Indicator (LMI) Systems

(2)

Lubricants-Telescopic Boom

(4)

Lubricants-Wire Rope

(1)

Luffing Jibs

(7)

Man Baskets & Platforms

(10)

Manuals

(16)

Outrigger Pads, Mats & Cribbing

(65)

Outriggers & Shoes

(5)

Overhaul Balls

(24)

Pallet Fork Attachments (Cranes & Equipment)

(4)

Pins

(1)

Reels

(6)

Safety Equipment & Systems

(7)

Seal Kits

(18)

Seals

(1)

Shafts & Shafting

(2)

Sheaves

(18)

Slings

(7)

Snatch Blocks

(1)

Sockets

(3)

Steel Crane Mats

(1)

Swing Components

(1)

Switches

(1)

Swivels

(7)

Tilt-Up Blocks

(1)

Tires

(6)

Tower Attachments

(2)

Tracks & Sideframes

(2)

Transmissions

(3)

Valves

(4)

Various Parts, Attachments, Components & Accessories

(46)

Wire Ropes

(9)

Platform Aerial Lift Devices & Bucket Trucks

(106)

Boom Lifts-Articulating

(4)

Boom Lifts-Telescopic

(21)

Boom Trucks

(1)

Bridge Inspection Access Platforms

(7)

Bucket Truck Aerial Platforms

(71)

Scissor Lifts

(2)

Reach Stackers, Port & Terminal Handling Equipment

(3)

Mobile Harbour Cranes

(1)

Reach Stackers

(2)

Site Dumpers & Crawler Carriers

(4)

Telehandlers, Forklifts & Lift Trucks

(151)

Forklifts

(2)

Lift Trucks

(31)

Telehandlers

(118)

Trucks, Trailers & Transport Equipment

(20)

Pole Utility Trailers

(2)

Self-Propelled Module Transporters (SPMT's)

(16)

Trucks

(2)
Subcategories
Articulating Boom

(7)

Articulating Telescopic Boom

(19)

Compact City

(20)

Construction - Mining - Marine

(3)

Crawler Track Mounted

(17)

Down Cab

(86)

Dragline

(1)

Show All
Manufacturers
Allegheny Utility Trailers

(1)

Altec

(40)

Alturnamats

(1)

American

(36)

Ascom

(1)

Aspen Aerials

(2)

Auto Crane

(3)

Show All
Sellers
A-1 South Texas Sign Erectors, LP

(1)

A-Maskin AS

(1)

AGAM Group Limited Company w.l.l.

(1)

ALL Family of Companies

(300)

ALT Sales Corp.

(1)

ATX Crane

(3)

Aamik Crane Service

(1)

Show All
Countries
United States

(4957)

Canada

(223)

Argentina

(6)

Aruba

(1)

Australia

(13)

Barbados

(1)

Belgium

(7)

Show All
States
Alabama

(29)

Alaska

(3)

Arizona

(12)

Arkansas

(21)

California

(262)

Colorado

(78)

Connecticut

(54)

Show All
Types of Cranes & Lifts
Cranes, Hoists & Material Handlers

(17046)

Mini Cranes

(236)

All Terrain Cranes

(1304)

Boom Trucks

(971)

Bucket Truck Aerial Platforms

(1)

Carry Deck Industrial Cranes

(332)

Construction Elevator Hoists

(60)

Crawler Cranes

(1634)

Derrick Cranes

(98)

Draglines

(22)

Floor Cranes

(4)

Gantry Cranes

(183)

Grapple Loader Cranes

(55)

Hoist Winches

(45)

Hydraulic Gantries

(1)

Industrial Elevators

(3)

Jib Cranes

(4)

Knuckle Boom Articulating Cranes

(5226)

Material Handlers

(495)

Material Hoists

(17)

Offshore Cranes

(17)

Overhead Cranes

(1)

Pallet Fork Loader Cranes

(118)

Pedestal Cranes

(13)

Pick & Carry Cranes

(255)

Ringer Cranes

(6)

Roofing Conveyors

(10)

Rough Terrain Cranes

(1220)

Service Mechanic Truck Cranes

(399)

Sign Cranes

(13)

Teletruck

(1)

Tower Cranes

(3175)

Trailer Mounted Cranes

(11)

Trolley Booms

(32)

Truck Cranes

(1077)

Wheel Cranes

(4)

Wind Tower Cranes

(2)

Work Platforms

(1)

Digger Derricks, Piling & Foundation Machines

(277)

Digger Derricks

(105)

Drilling Rigs

(151)

Pile Driving Rigs

(20)

Piling Cranes

(1)

Earthmoving Equipment

(49)

Crawler Carriers

(45)

Grapple Loader Cranes

(1)

Pedestal Cranes

(1)

Rough Terrain Cranes

(2)

Electric & Aerial Transmission Equipment

(2)

Boom Lifts-Telescopic

(1)

Bucket Truck Aerial Platforms

(1)

Forestry & Logging Equipment

(128)

Forklifts

(1)

Grapple Loader Cranes

(66)

Lift Trucks

(10)

Material Handlers

(41)

Trailers

(8)

Trucks

(2)

Heavy Lift Hydraulic Systems

(35)

Hydraulic Gantries

(31)

Strand Jacks

(4)

Industrial Support

(63)

Reach Stackers, Port & Terminal Handling Equipment

(361)

Container Cranes

(5)

Container Handlers

(89)

Gantry Cranes

(1)

Mobile Harbour Cranes

(76)

Reach Stackers

(171)

Terminal Tractors

(19)

Material Plant Equipment-Concrete, Asphalt, Aggregate

(3)

Mining Equipment & Machinery

(15)

Drilling Rigs

(12)

Lift Trucks

(1)

Rough Terrain Cranes

(1)

Teletruck

(1)

Parts, Attachments, Components, Manuals, & Accessories

(164)

Suspended Personnel Platform

(13)

Anti-Two Block (A2B) Systems

(1)

Boom Raise System

(1)

Buckets (Concrete - Clam - Dragline)

(70)

Crane Bumpers

(45)

Hook Blocks

(5)

Load Moment Indicator (LMI) Systems

(1)

Lubricants-Telescopic Boom

(1)

Lubricants-Wire Rope

(3)

Outrigger Pads, Mats & Cribbing

(2)

Pallet Fork Attachments (Cranes & Equipment)

(1)

Pile Driving Rigs

(4)

Steel Crane Mats

(9)

Tire Handler Manipulators

(6)

Wireless Power Line Detection

(2)

Platform Aerial Lift Devices & Bucket Trucks

(2566)

Boom Lifts-Articulating

(601)

Boom Lifts-Telescopic

(505)

Bridge Inspection Access Platforms

(55)

Bucket Truck Aerial Platforms

(674)

Floor Cranes

(3)

Man Baskets & Platforms

(3)

Platforms Lifts

(1)

Scissor Lifts

(510)

Sign Cranes

(1)

Speed Level Lifts

(48)

Vertical Mast Lifts

(148)

Wheel Cranes

(1)

Work Platforms

(16)

Rail Equipment

(42)

Boom Lifts-Articulating

(2)

Bridge Inspection Access Platforms

(4)

Grapple Loader Cranes

(1)

Material Handlers

(2)

Railroad Cranes

(33)

Site Dumpers & Crawler Carriers

(23)

Telehandlers, Forklifts & Lift Trucks

(2597)

Telehandlers

(991)

Forklifts

(866)

Front End Articulating Loader

(2)

Lift Trucks

(692)

Pallet jack

(13)

Teletruck

(17)

Tire Handler Manipulators

(16)

Trucks, Trailers & Transport Equipment

(185)

Container Handlers

(3)

Pole Utility Trailers

(22)

Self-Propelled Module Transporters (SPMT's)

(29)

Trailers

(122)

Trucks

(9)
Subcategories
3-Wheel

(68)

Amphibious

(1)

Articulating

(16)

Articulating Boom

(120)

Articulating Telescopic Boom

(37)

Bi-Energy

(18)

Cargo

(2)

Show All
Manufacturers
600SA

(1)

ABI

(1)

ACE (Action Construction Equipment)

(86)

ALFA

(30)

AUSA

(22)

Aerial Access

(4)

Agria Hispania, S.A.

(4)

Show All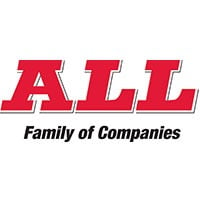 ALL Family of Companies
Location: West Elizabeth, PA, United States
How Close: 154 miles
216-98...
Email this Company
When You Need to Buy Lift Equipment . . . . . . . . . . . . . . Whether you're considering used or new equipment . . . . . . . . . . . . . ALL ERECTION
(show more)...
When You Need to Buy Lift Equipment . . . . . . . . . . . . . . Whether you're considering used or new equipment . . . . . . . . . . . . . ALL ERECTION & CRANE RENTAL is the dealer to choose. Why? Purchasing a piece of equipment can represent a sizable long-term investment for your company. So, you need a long-term partner to help you get the highest return for your dollar.

With ALL, you can be sure you're getting the best value. And you are guaranteed the peace of mind that comes from working with a trusted resource in the industry. Let us be your link between the cranes, aerial lifts, boom trucks, and other lift equipment we sell and your total satisfaction.

When it comes to financing, we remove the hassle and the headache.

The ALL Advantage . . . . We continually reinvest in our business with the best equipment, training, and technology to help us serve you better. We keep up with changes in the industry and align ourselves with your needs. It's what you should expect when you choose ALL to purchase equipment.

Cranes for Sale Now . . . . Auctions, brokers, web sales, and other site-unseen or third-party sellers give you access to what they have...and that's it. But do you know what you are buying? Do you get the value you need....long-term value? Know what you are buying. You should ask tough questions about the seller of any heavy equipment and understand that you often pay later for buying cheap today. We rebuild and maintain like new. Big cranes and small - we offer real value on used cranes, used aerials, used boom trucks, used forklifts, used scissor lifts, and more. Call us for pricing and delivery options for our cranes for sale fleet.
NEW 2022 Manitex TC50128S 50-Ton Boom Truck Crane For Sale
Location: Richfield, OH, USA
Get a Shipping Quote
NEW Manitex TC50128S, 50 USt, Riding Seat Crane, 128' Main Boom, Jib Ready, A92.2 Aerial Lift Man basket Dual Rating Ready, Front Bumper Stabilizer for 360° Load Chart, Radio Remotes for O/R, Remote winch line for front tie-down, Aux Diesel Heater, Heat, and A/C in crane Cab. Mtd. on Peterbilt 567, X15 500 HP, Allison 4500 automatic transmission, Federal Bridge Legal, 100 Gallon Fuel Tank and Much More.
---
1
vote
(You Gave 0 Stars)
Price On Request
Finance
---
---
Shipping Quote
Contact Seller
---
Shaune Rados
Director of Sales

---