Listings

Listing Timeline

About

Company Description

Branches

Company Branches

Contact

Company Contacts
Contacts for Cranes, Booms and Bucket Truck Sales, LLC

Branches in Cranes, Booms and Bucket Truck Sales, LLC
Main Office
Waukesha, WI, USA

While we are based in Milwaukee, Wisconsin, Cranes, Booms and Bucket Truck Sales, LLC serves buyers and sellers nationwide. We are "well connected" with the National Crane, Terex, Manitex and Elliott Dealer networks around the country as well as with private individuals who come to us to help them buy or sell a piece of truck mounted equipment.
We are eager to serve you. Please check out our inventory listed here (left column links) - but also call or email us for the latest in available units that have not hit our site yet. We can help! Please call us Toll Free at 877-352-7263.
We look forward to meeting you on the phone and appreciate the opportunity to work with and for you. Thank you!
| | |
| --- | --- |
| Location | Wisconsin US |
| Make | National Crane |
| Model | 18127 |
| Tons | 40.00 |
| Year | 2006 |
$160,000 USD
by Cranes, Booms and Bucket Truck Sales, LLC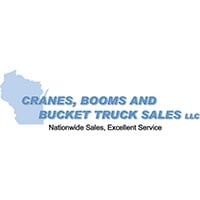 PLEASE NOTE: This crane is tentatively sold as of 7/14/21. Please contact Crane Lady Megan if interested - in case the deal falls through. Three other similar, newer, National Crane Swing Cabs (40 & 45 ton, long booms) will be available in Winter 2021 or 2022 - details below. 2006 National Crane 18127 on 2006 Sterling LT9500 with MBE4000 dsl 2006 National Crane 18127 Swing Cab 40 tons 127' of main boom offers ~137' tip height without jib Enclosed Factory Swing Cab with Heat Crane Cab has Factory Air Conditioning Mounted on 2006 Sterling LT9500 series chassis Mercedes MBE4000, 450 hp diesel Eaton Fuller transmission ~ 180,000 Miles...
| | |
| --- | --- |
| Location | Wisconsin US |
| Make | Grove |
| Model | TM800 |
| Tons | 80.00 |
| Year | 1972 |
$59,900 USD
by Cranes, Booms and Bucket Truck Sales, LLC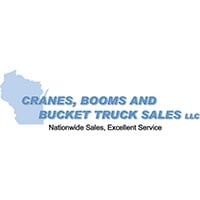 Hendrickson 4 axle carrier with Boom Dolly included; has Nelson single axle front booster, and Jacobs two axle rear booster; Newer PAT A2B; Rooster Sheave; 80 ton Miller block and 10 ton Miller ball. Two winches both with two speeds. Detroit 8V71 high horsepower diesel in lower, Detroit AB71 engine in upper; Good cable, Tires 80-90% remaining, Tires matching all around. Hours: approx. 13,000 hrs; Odometer reads 85,000 but odometer not functional. Work-ready!! Last inspected 2015. Crane does not leak oil, is fully functional, and is in excellent condition. Seller says: "This crane looks good, lifts good, drives good, and...