I pray for a Memorial Day soon where people of all races, creeds, and colors can proudly look upon a crane hoisting the American Flag and see just that, an American Flag. And remember Memorial Day is a holiday for the mourning of ALL the military personnel who have died in the performance of their military duties defending our freedoms.
Did you know the American Civil War also called the War Between the States, has a generally accepted death toll of around 620,000, and many historians think the number should be higher, closer to 750,000 and possibly as high as 850,000 soldiers who died on both sides?
Let's meet in the middle and agree 750,000 soldiers died during the Civil War. Did you know that three-quarters of a million dead is more than the combined number of dead military personnel of all wars fought by the United States before and after the Civil War?
I ask what has changed in 160 years?   I see a country more divided than ever purposely designed to be divided by a Left/Right paradigm.
Before what divides us consumes us, maybe it is time to celebrate what the UNITED STATES OF AMERICA was founded on…. life, liberty, and the pursuit of happiness.
Then regardless of anyone's political belief or ideology, we can all look up at a crane hoisting a flag and proudly see an American flag representing all of us and not the supposed noose below dividing us.
Sourced from the: 
A construction company building a parking structure at Central Connecticut State University had hoisted an American flag at the end of one of its steel cable loops to mark Memorial Day — but a complaint that the cable was a noose prompted campus officials to apologize and pledge to take down the cable as soon as possible.
"Early this evening, we received a complaint about a possible noose found hanging from a construction site on the CCSU campus. Campus Police … investigated and found that it was not a noose but a standard steel cable loop hanging from a crane," wrote President Zulma Toro in an email to the campus community on Saturday night.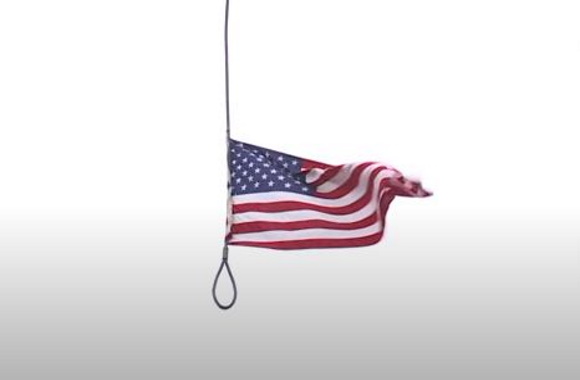 "A construction crew working on campus hung an American flag from the crane's cable to recognize Memorial Day," added Toro in her email, a copy of which was obtained by The College Fix.
Toro continued that steel cable loops are often used by cranes, but that there was another similar concern recently reported regarding another nearby construction site. In the end, Toro sided with those offended by the steel cable loop's visual similarity to a noose.
"Quite frankly, I think it is reckless and tone-deaf behavior," Toro said in her email to the campus. "We have been in contact with the construction company and demanded that the cable be lowered tonight. We have a team on-site tonight monitoring the situation."
But as of Sunday morning the cable loop and its American flag remained up, and a beleaguered-looking campus administrator, interim Vice President for Student Affairs John Tully, explained to a local news television station that it was difficult to find someone who could safely operate the crane at such short notice on a holiday weekend to get the cable loop down.
Meanwhile, he expressed his concern for those who thought the steel cable loop was a noose or looked like a noose.
"The perception of its noose-like appearance is concerning. We were speaking to people last night who certainly felt some pain, we feel that pain, our president has issued a statement expressing her concern about this and we are working diligently to get it down," Tully told Fox 61.
Apparently, the fact that the steel cable loop is not a noose does not matter to some in the community.
Ronald Davis, president of the New Britain NAACP, told FOX 61 that "Regardless of what someone else says about that, what I see, as a black man? That's a noose. Period. No ifs, ands, or buts about it. Take it down."
But one intrepid College Fix reader noticed there are several steel cable loops hanging from the crane, and the only one that appears to bother another is the one with the American flag on the end of it. He cites one image of the crane in which viewers can see three or four cable loops
IMAGES: Screenshots: Fox61 and WFSB
Like The College Fix on Facebook / Follow us on Twitter
Hate-crime hoax: Noose reported on campus just crane's steel cable loop
But some choose to see the Wire Rope Suspending
JENNIFER KABBANY – FIX EDITOR •MAY 31, 2021