Listings

Listing Timeline

About

Company Description

Branches

Company Branches

Contact

Company Contacts
Contacts for Bakers Signs

Branches in Bakers Signs
Bakers Signs
11201 FM 1485, Conroe, TX 77306, USA

Bakers Signs offers truck and crane services for your installation or repair needs. Our truck and crane service crews range from 1 to 4 technicians with the option to expand services based on the scope of work. With our qualified technicians assisting, you can be confident you are getting the most effective use out of the bucket truck or crane service and the highest level of expertise on your installation or service project.
Bakers' Signs offers truck and crew services across Texas in cities like Houston, Dallas/Fort Worth, San Antonio, and Austin as well as surrounding states. Call our sales team today for rates and to find out the best option for tackling your project. It is possible that your project may be better suited for one of our other installation or service methods which could save you money. We are happy to help determine the best plan of action. Call today at 800-341-9158.
| | |
| --- | --- |
| Location | Conroe, Texas US |
| Make | Elliott |
| Model | G85R |
| Tons | 2.95 |
| Year | 2018 |
Price On Request
by Bakers Signs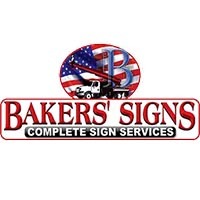 2018 ELLIOTT HI-REACH MODEL G85R FOR SALE MOUNTED ON A 33,000 GVWR 270HP FORD F-750XL TRUCK WITH AUTOMATIC TRANSMISSION TO BE EQUIPPED WITH THE FOLLOWING OPTIONAL EQUIPMENT: 1EA. 16' STEEL FLOOR BED 1EA. STANDARD ICC REAR BUMPER W/STEPS AND GRAB HANDLES 1EA. TIE DOWN RAILS 1EA. AUTOMATIC SAFETY ROTATION LOCKOUT 1EA. 5,900 LBS. PLANETARY WINCH 1 EA. PLATFORM MOUNTED JIB WINCH - 500 LB. CAPACITY 1EA. 110 VOLT LINE TO PLATFORM 2EA. SIGN FORKS ON THE PLATFORM 1EA. HOT SHIFT PTO 1EA. 98"X36"X24" STEEL CROSS BODY BOX 1EA. STEEL CABLE CARRIER COVERS 1EA. CAB GUARD FROM BACK OF CAB TO FRONT BUMPER, W/SPRING LOADED UPRIGHTS 1EA. MOUNTING ABOVE 8' CROSS BODY TOOLBOX FOR WELDER 1EA....